+94 76 833 2794
+94 76 682 4029
info@hariotwatt.lk
courses@hariotwatt.lk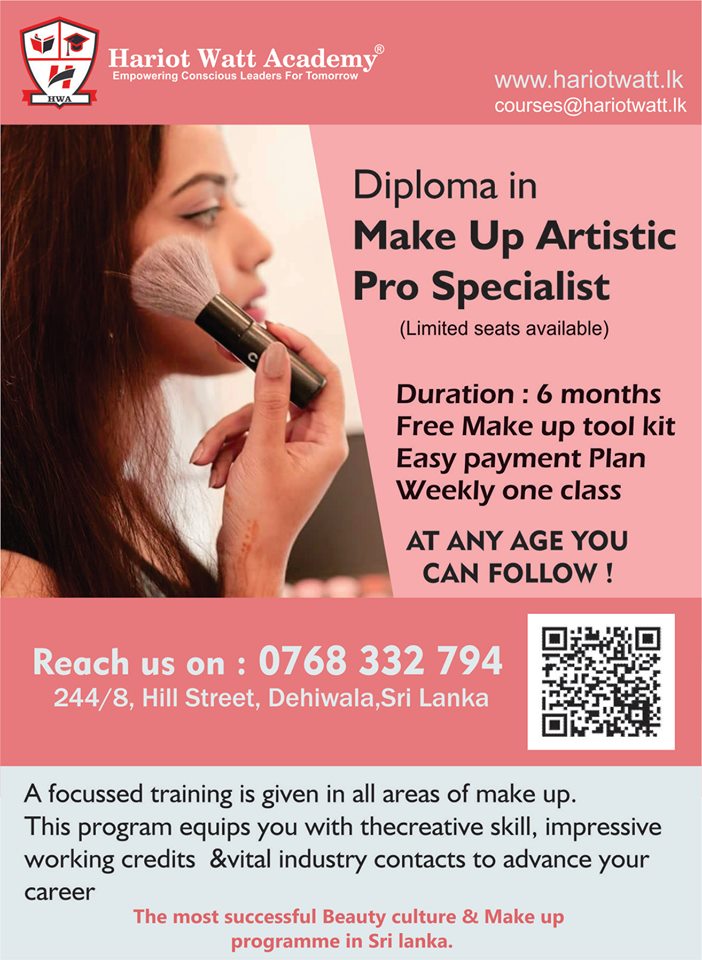 Diploma in Make Up Artistic Pro Specialist program (View More Details)
Diploma in Make Up Artistic Pro Specialist program (View More Details)

Diploma in Make Up Artistic Pro Specialist will deliver ample knowledge for your vision career. This program offers the specializations of Training Room for Make Up, Creative Skills and Impressive Working Credits in Beauty Culture. The program is exclusively for ladies and conducted by ladies. You are welcome to select either one of the specializations or specialize in more than one stream.
This will help you to straight step into the First year of the Bachelor's Degree, thus saving a great deal of time and cost. The program is a vocational program where it opens doors to many job opportunities. This program is very much beneficial to those who are employed as much as for those looking for employment.

The program has written examinations and evaluates the students with different types of practical assignments and sufficient theory knowledge. This work-related qualification provides direct entry into the work place as it satisfies employer needs.Therefore, it is widely recognized by industry and academic institutions are the principle vocational qualification.

Mock exams will be conducted as a practice in order to tailor you to your final examinations

Program Duration: 6 months
Assignments and Examinations: Final Assignment and Examination at the end of the program
1 individual certificate will be awarded


Entry Requirements
----------------------------------
Completion of GCE O/L or GCE A/L with simple pass for Maths and English.
Or completion of any certificate Course in Management.


Our Correlate Organizations
Hariot Watt Academy is one of the nation's leading institution for pioneering in producing conscious leaders for business industry. As a high education center we have created well preferred degree, MBA pathways into one of the best United Kingdom's universities.