+94 76 833 2794
+94 76 682 4029
info@hariotwatt.lk
courses@hariotwatt.lk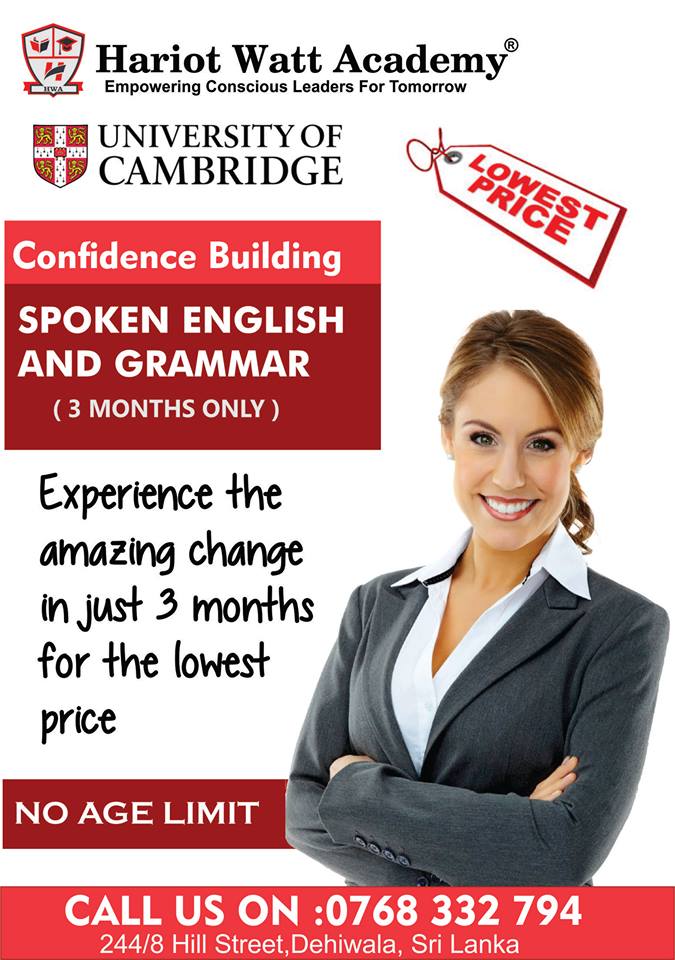 Confidence Building in Spoken English and Grammar Program (View More Details)
Especially for those who wish to refurbish their speaking and grammar skills in English. This particular program will direct you to intensify your confidence as an English speaking individual. You will experience a set of classroom activities such as speaking, listening, reading and writing during this program.

Our Lecturers will guide you face practical scenarios such as job interviews, business letter writing, presentations, conversations and corporate speaking. You will obtain a thorough knowledge in English and Grammar during this intermediate level.

This will pave your way to enroll for programs such as PET, BEC, FCE, CAE and CPE in future.

We will be practicing students with a set of Mock Exams before the Final Exams.

Program Duration: 3 months
Assignments and Exams: No Assignments only Final Exam at the end of the program.

Entry Requirements
------------------------------
Anyone can join this program.
Our Correlate Organizations
Hariot Watt Academy is one of the nation's leading institution for pioneering in producing conscious leaders for business industry. As a high education center we have created well preferred degree, MBA pathways into one of the best United Kingdom's universities.